Are you aware that there are different size cues for the different size Billiard Table games?
If you weren't aware you are definitely not alone as it's a common unknown fact.
The differences in cue sizes and particularly cue-tips relate to the size of the cue-balls used for the particular games and tables.
The Billiard Shop manufactures appropriate cues for Snooker, standard English Pool and American Pool.
English Pool Cues
The English Pool cues are the most common cues as they are designed for the games we play on the 6ft or 7ft pool tables.
The size of the cue ball on these tables are also slightly smaller than the object balls which tend to be around 1 7/8 inches.
Because the cue-ball is lighter and only needs to travel around a 6ft or 7ft table you don't need to strike it with extreme force.
As a result, the standard length of the English Pool Cue is around 56 to 57 inches long and most importantly the cue-tip is 8.5mm.
Snooker Cues
The cue-tip of Snooker cues are generally around 9.5mm in diameter. The length of the cue, whether one or two piece tends to be around 57 or 58 inches.
The reason for this is quite simple. The full-size Snooker Table such as Billiard Shop's Supreme or Grand Duke is 10′ x 5′ and 12′ x 6′.
The balls have to travel further and are therefore larger in size. The Billiard Shop stocked Aramith Tournament Champion Snooker Balls are 2 1/16" (52.4mm).
So naturally you need more power to hit the ball particularly straight.
American Pool Cues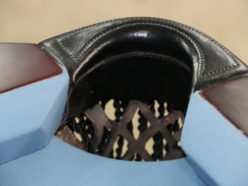 The best way to sum up American Pool Cues is a 'fast game is a good game'. The game is designed around speed and entertainment and the cues are made to promote this.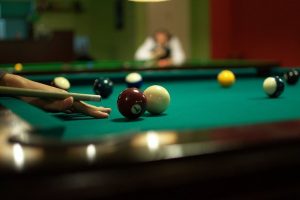 The cues look exciting and more technological advancements have gone into them than any other cue on the market.
The USA pool tables have 2 ¼ inch drop pockets along with worsted cloth commonly referred to as American 9 Ball worsted cloth.
The bigger pockets compensate for the bigger object balls which are both 2 ¼ inch (57mm).
So too best direct the balls around the table, the best American Pool Cues are big and strong at around 58 inches long are a two-piece funnel robust construction.
To promote optimum control the cue tips are 12-13mm in diameter. A great example of the American Pool cues is the Billiard Shop.
For further advice on what is the best cue for your table or your age ask any of the Billiard Shop staff at Aspley and Slacks Creek in Brisbane, Toowoomba, Bundall on the Gold Coast and Caloundra on the Sunshine Coast.
We also welcome calls to 1300 300 654.
Let the good times roll.