A transitional table, providing dual function as a dining table or a pool table, is a no-brainer if space is an issue in your home.
Made from solid oak construction, the Krenice convertible dining/pool table offers the ultimate in functional versatility combined with elegant contemporary design. One of Billiard Shop's most popular tables, this incredible two-in-one combo features a removable three-piece dining top that covers the pool table beneath but can be easily lifted off when it's time to play.
Imagine inviting family or friends over for dinner and them admiring your new dining room table. After a wonderful dinner and possibly a few drinks, you ask: "Anyone care for a game of pool?"
A typical response from your guests may be a confused face or a query such as, "How many have you had?"
Of course, after clearing the table and setting about revealing its inner secrets, your guests are left in amazement with the latest addition to your family and it's time for a little fun. Nicely played!
Along with USA American 9 Ball worsted cloth, the Krenice boasts the increasingly popular 2¼-inch American-style drop pockets. This generally enables quicker, more enjoyable games, while also making it easier for children and other pool newbies in the family to learn how to play.
The perfect addition to any home, especially for the more space-conscious consumer including those living in apartments, the Krenice is also a highly suitable option for boardrooms, breakout areas and relaxation spaces in today's dynamic workplaces that acknowledge the importance of increasing employee wellbeing and strengthening team bonds.
Beautifully designed, solidly-constructed and made to last, like any Billiard Shop table, this is a stunning piece of furniture to compliment any designer décor. The fact it's a dining table and pool table in one simply elevates it to another level!
This four-legged table is available in 7-foot and 8-foot lengths and utilises a one-piece 1-inch slate, with a clever feature being an 18-point slate levelling system inside the frame enabling easy and more accurate levelling simply by winding a lever underneath the table.
Cloth colours
The Krenice dining and pool table combo is available in a variety of colours, including blues, black, greens, grey and reds. Surcharges may apply for some colours.
Please note: Due to monitor capabilities, colours depicted may vary from the final product.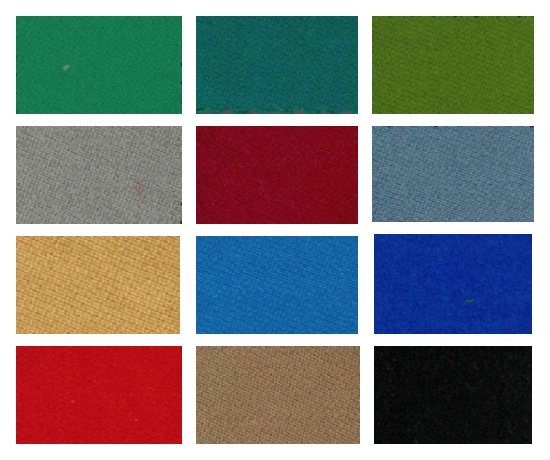 Timber colours
The Krenice is available in a clear finish or with your choice of an American walnut or driftwood maple stain. Other timber colours are available upon request, however surcharges may apply. Please call to speak to an expert and discuss your options.
Warranties
The Krenice comes with a 10-year warranty on the frame and a lifetime warranty on the slate.
Also for your consideration
If you're looking for our newest range of contemporary designer décor pool tables, you may wish to check out the Manhattan, Denver, Chicago, Detroit or Austin.
What size room do I need for my pool table?
| Table Size | Ideal Room Size | Minimum Room Size |
| --- | --- | --- |
| 6' x 3'             (1.83 x 0.91) | 16' x 13'        (4.88 x 3.96) | 14' x 11'        (4.27 x 3.35) |
| 7' x 3'6"         (2.13 x 1.07) | 17' x 13'6"    (5.18 x 4.11) | 15' x 11'6"    (4.57 x 3.50) |
| 8' x 4'             (2.44 x 1.22) | 18' x 14'        (5.49 x 4.27) | 16' x 12'        (4.88 x 3.66) |
| 9 x 4'6"          (2.74 x 1.27) | 19' x 14'        (5.79 x 4.42) | 17' x 12'6"    (5.18 x 3.81) |
| 10' x 5'           (3.05 x 1.52) | 20' x 15'        (6.10 x 4.57) | 18' x 13'        (5.49 x 3.96) |
| 12' x 6'           (3.66 x 1.83) | 22' x 16'        (6.71 x 4.88) | 20' x 14'       (6.10 x 4.27) |
| | |
| --- | --- |
| Sizes: | 7' x 3'6" or 8' x 4' |
| Pockets: | USA Style 2 ¼ inch drop pockets |
| Top: | Removable 3 piece Solid Oak Dining Top, when lifted off reveals a majestic Pool Table |
| Timber Colour: | |
| Cloth Colour: | |
| Cloth Type: | USA American 9 Ball worsted cloth |
Have a query?
For free, friendly advice, call 1300 300 654 today to speak to an expert and have one of the Billiard Shop team member answer any questions you might have.