It's an all too common sight at Billiard Shop Pool Table repairs.
We get a call to fix up a recently purchased 2nd hand pool table and on removing the cloth we discover the slate is cracked.
For the owner it's a heart breaking feeling that we really don't like to see as bringing a pool table into a family home is something that should be celebrated.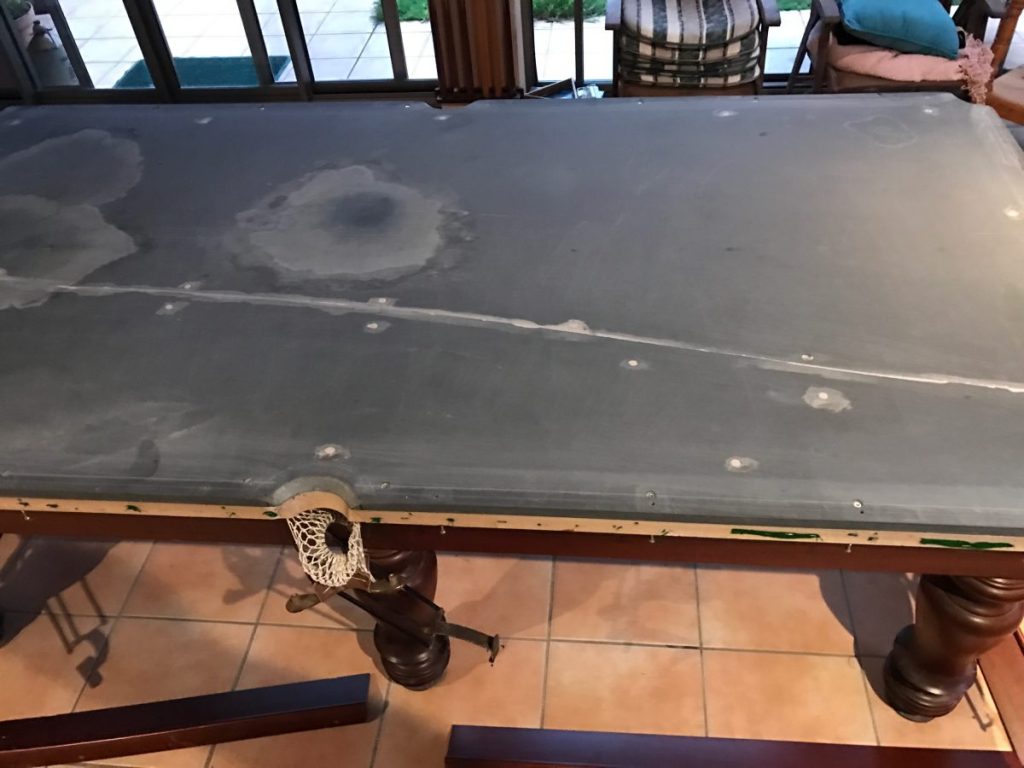 As expert pool table repairers we will professionally fix up the cracked slate but naturally it will never play as a well as intact slate.
Billiard Shop has a life-time guarantee on our Pool and Snooker tables and there are processes we do recommend to keep your table looking as it should be.
Care and Maintenance
Regular brushing of the cloth will make it last significantly longer along with maintaining performance and appearance.
The brushing removes dust/chalk particles in the cloth and re-establishes the nap direction.
Always brush in straight lines in the direction of the nap (from baulk line to spot)
Never brush against or across or else the direction of the nap will be lost as the wool fibres bunch together
Don't brush to heavily or use a brush with stiff bristles as this may damage the fibres
Occasional dry iron the cloth and in humid conditions do so more often
Ironing in the direction of the nap will make the cloth play faster
Only iron after brushing or marks will be made permanent
The iron must be clean and tested for heat on a sheet of paper.
If there is the slightest scorch on the paper, allow the iron to cool before use
Never iron the cushions – regular brushing is suffice
Important advice.
To avoid fading avoid sitting tables near natural daylight, especially direct sunlight.
A table cover is ideal to protect the cloth when not in use and help preserve the brightness of the cloth colour.
Always check your cue tips as a damaged tip results in more damage to the cloth from marks to tears.
Make sure the tips are fitted correctly and if the ferrule is rough or sharp.
Table Discipline
Encouraging and enforcing proper discipline amongst table users will also considerably extend the performance of the cloth and help maintain its performance.
So in other words, don't spin coins, drop balls or heavy objects on the table, use cues with sharp edges on ferrules and never chalk the cue over the table as the dust acts as an abrasive.
Avoid using worn or damaged balls and avoid excessively powerful shots, don't sit or leave cues on the table and last but not least don't drink over the table.