When It Comes To Pool Table Removals, Don't Risk Life, Limb or Table!
Slate is a heavy thing and it needs to be moved and then reassembled on the frame with precision and care.
Billiard Shop offers a complete pool table removal service whether that be from house to house or house to storage.
Give our pool table movers a call. Billiard Shop has been moving pool and snooker tables of all shapes and sizes since 1968. Their expertise will ensure the move is as smooth as possible, giving you peace of mind.
Billiard Shop staff are expertly trained in getting the table level which is not an easy thing to do for a do-it-yourselfer. After all, what is the point of having bought a slate pool table for sale from us if the balls don't roll straight?
"All the billiards shops have a service where you can call to move your table, whether that be in Townsville, Mackay, Toowoomba, Sunshine Coast, Gold Coast, or at Aspley or Slacks Creek in Brisbane," Billiard Shop's Luke Johnson said.
"There are many ways a table is built and many ways to move it, for example some 10 ft and 12 ft tables have a number of pieces of slate."
"If you give us a call we can give you advice or we are more than happy to come move it for you," Mr Johnson.
Affordable Pool, Billiard and Snooker Table Removals
The slate in picture was a one piece slate which was disassembled then placed on the back of the Billiard Shop Ute. A specifically designed trolley, boasting soft tyres, is without a doubt the hero of the exercise.
The tables are not only heavy but many are also artistically designed so to ensure your expensive and prized possession makes the journey intact, opt for pool table removal services from the professionals.
Depending on the entry point into a dwelling the table may require to be broken down dramatically.
Measuring the entrance with a pool cue is a handy way of deciding the best point of entry.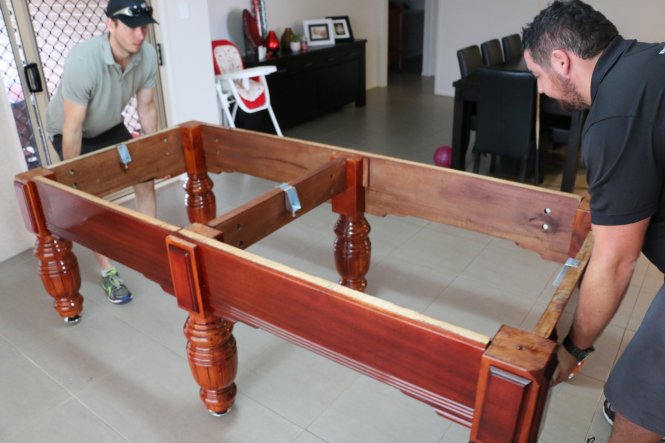 Once the base is placed in the required position, taking into account the room to make a shot, the top slate section is then brought in.
It's simply not a case of placing the top on as it can at times be quite a task lining up all the holes.
The end result of a professional Billiard Shop move is it's ready to play!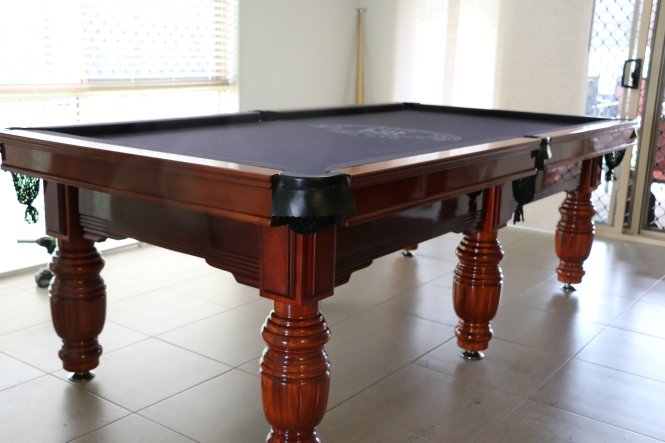 "So if you've just bought yourself a snooker or pool table for sale from one of our stores, or are looking to buy a second hand one, or if you've got one already and you need to move house, give Billiard Shop a call and we'll happily help you out," Mr Johnson said.
Call 1300 300 654 to speak to your nearest Billiard Shop removals specialist.