Professional Pool Table Removals

When It Comes To Pool Table Removals, Don't Risk Life, Limb or Table!
Ask us for a Table Removal Quote
Billiard Shop staff are expertly trained in getting the table level which is not an easy thing to do for a do-it-yourselfer. After all, what is the point of having bought a slate pool table for sale from us if the balls don't roll straight?
"All the billiards shops have a service where you can call to move your table, whether that be in Townsville, Mackay, Toowoomba, Sunshine Coast, Gold Coast, or at Aspley or Slacks Creek in Brisbane," Billiard Shop's Luke Johnson said.
"There are many ways a table is built and many ways to move it, for example some 10 ft and 12 ft tables have a number of pieces of slate."
"If you give us a call we can give you advice or we are more than happy to come move it for you," Mr Johnson.
Affordable Pool, Billiard and Snooker Table Removals
The slate in picture was a one piece slate which was disassembled then placed on the back of the Billiard Shop Ute. A specifically designed trolley, boasting soft tyres, is without a doubt the hero of the exercise.
The tables are not only heavy but many are also artistically designed so to ensure your expensive and prized possession makes the journey intact, opt for pool table removal services from the professionals. Depending on the entry point into a dwelling the table may require to be broken down dramatically.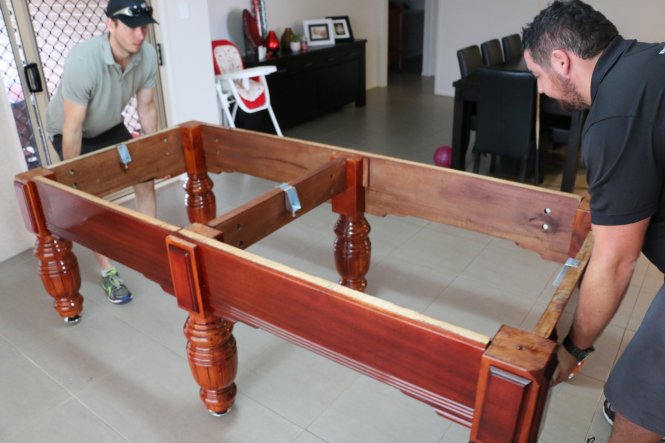 Measuring the entrance with a pool cue is a handy way of deciding the best point of entry.
Once the base is placed in the required position, taking into account the room to make a shot, the top slate section is then brought in. It's simply not a case of placing the top on as it can at times be quite a task lining up all the holes.
The end result of a professional Billiard Shop move is it's ready to play!
Business Manager - Luke Johnson
"So if you've just bought yourself a snooker or pool table for sale from one of our stores, or are looking to buy a second hand one, or if you've got one already and you need to move house, give Billiard Shop a call and we'll happily help you out," Mr Johnson said.
Speak to your nearest Billiard Shop removals specialist.
HOW OFTEN IS BILLIARD TABLE CLOTH REPLACEMENT REQUIRED?
Typically, pool table cloth replacement is required only every 10 to 20 years depending on the quality of the material – felt will wear far more than intricately-weaved worsted wool – and how it's been treated. For example, a cloth's longevity may be adversely affected by exposure to sunlight, beer spillages, cigarette burns or damage resulting from trick shots – such as L-shaped tears caused by the cue making contact with the cloth when shooting at a right angle to make the ball spin. Wear lines can also develop from repetitively breaking from the same spot. Whether or not you originally purchased your table from Billiard Shop, our pool table repair service is available to you. It's fair to say that with online classified advertisement websites contributing to more and more second-hand pool tables being purchased, many in varying states of disrepair, requests for Billiard Shop to re-cloth pool tables have increased exponentially in recent years.
Replacing the cloth on Pool Table
If you're considering pool table refelting but are wanting to improve playability of your pool table, felt replacement in favour of a higher-grade cloth is a great place to start. When it comes to pool table or snooker table cloth replacement, we offer three premium-quality options to suit every customer's requirements and budget: 100% wool FSN directional billiard cloth 100% wool Hainsworth cloth 100% wool Strachan 30-ounce 6811 cloth – widely recognised as the world's No.1 cloth When considering pool table recovering for home play, the FSN is more than adequate. However, competition players will almost certainly have a preference for the Hainsworth cloth for superior ball control and speed or the even finer, faster nap of the Strachan cloth. Across the FSN, Hainsworth and Strachan range, there are also about 15 colours to choose from to ensure a perfect fit with your decor.
Is DIY Billiard table cloth replacment advisable?
We sell cloth for customers who want to attempt the task themselves, however we do not advise it and find we're often called in to finish the job. A major problem is the cloth ending up too loose during initial DIY install. It can be restretched afterwards, however that can lead to issues with markings being pulled out of shape – effectively meaning the need to start from scratch, at additional cost. DIY efforts in stretching and stapling the cloth can also easily lead to tears, resulting in a greater cost outlay for you. The best solution is to have our team of professional pool table repair experts get the job done for you first time, without any hassle.
What is the remedy on damaged cloth ?
Sometimes customers request us to remedy damage on their existing cloth, rather than replacing it, however we do not recommend this practice. Patching or gluing down torn cloth generally does nothing to improve the table's playability. In fact, it typically results in a section of slightly raised cloth that still causes the ball to deviate. If there is damage to your cloth causing frustrating interference with game play, we wholeheartedly urge you to opt to re-cover your pool table and start enjoying bringing family and friends together again!
What is process involved in Billiard Table Cloth replacement?
Due to the weight of billiard tables and the care required in moving them, it is far more cost-effective for us to re-cover your table with a new cloth in-situ at your premises. However, the process typically involved us being on-site for about an hour on two separate visits – particularly if cushion re-rubbering or pocket replacement is also required. Our billiard table re-clothing process may include a combination of the following steps: Remove the old cloth from the table bed and cushions. Thoroughly clean the slate bed surface. Inspect the pocket nets and leather (we'll make a recommendation for replacement if required). Fit your new cloth in your selected colour onto the table bed. Place new spots and markings on the new cloth. Replace cushion cloth. The turnaround time is generally a week or so, however the best-case scenario is 2-3 days. Be sure to mention upfront any urgency you may have – such as needing the work done before family or friends come to visit – and we will endeavour to work to your timeframe. Be sure to speak to an expert today about your pool table cloth replacement needs. Call Billiard Shop or submit the enquiry form.
Had my table re-clothed through these guys. Did a great job at a decent rate, and great service. Couldn't recommend them highly enough.
Guy Russ

I went to these guys to have my table refelted. Fantastic job. Friendly staff with brilliant service. Would definitely recommend.
Tony Spencer