Did you know you can convert your Pool Table in to Table Tennis?
Let's face it not too many households have the room to have both but thanks to a great innovation now you can.
Having a pool table and a table tennis top will do wonders for the development of your children's hand-eye coordination.
Table Tennis tops are professionally cut to size to be placed over the top of the seven and eight foot pool tables without causing any damage.
The nine foot long (274cm) and 5 foot wide (152.5 cm) are the proper dimensions of a table tennis table.
For many parents the table tennis tops have been a godsend for when their children are looking to do something different.
Billiard Shop stock them in a stunning electric blue which tends to add to the playing experience.
The nets are easily attached through a clip-on mechanism that ensures a great firm, straight and tight net.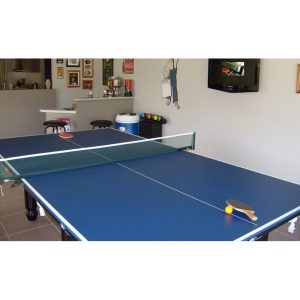 The tennis table top comes in two pieces. Lifting and lowering them gently on top of the pool table is easily done by two people.
The weight and the quality material used in the table allows them to be easily stored by being leaned against a wall.
Storage is easy and the garage is the usual place. To ensure the tables longevity it is recommended to have them propped up off the ground and also to throw a blanket over the top.
The tables come with the net along with two bats and two balls though to stop any potential mayhem we do recommend picking up more balls which do come off second best when stood on.
Just don't let the good times roll but let them bounce, served and smash. Game on! The table tennis tops are available at all Billiard Shop outlets in Mackay, Toowoomba, Townsville, Aspley and Slacks Creek in Brisbane, Bundall on the Gold Coast and Caloundra on the Sunshine Coast.